Sports Gear Black Friday Deals
Black Friday is one of the best times to shop until you drop because there are always some amazing deals. As the years go by, more and more stores and websites start their Black Friday sales early to allow everyone to get in on their exclusive price drops.
That being said, for our fitness and health lovers out there, you might want to check out some of these sports gear Black Friday deals. Whether you want some new fitness gear for your home gym, or maybe some new apparel or tech gadgets to help you perform at your best, there are tons of amazing deals for sports fans.
Across several sites like Amazon, Walmart, and Dick's Sporting Goods, these are some of the best sports gear Black Friday deals like these amazing examples.
RELATED: Best Golf Bags of 2023: Every Golfer Covered, No Matter Your Budget
Sports Gear Black Friday on Amazon
Amazon is the one-stop shop, as they have pretty much everything you might need. The same goes for their Black Friday sports gear deals. Amazon has several deals going on already, so let's take a gander at some of the best ones currently going on.
29. Energizer Rechargeable Bike Light, $17
One of the first sports gear Black Friday deals on Amazon is the rechargeable bike light for over 30% discount. It can be scary going around at night on a bike, especially with how reckless drivers can be these days, so it's important to not only see where you're going but notify others that you're on the road.
Whether you're moving around on trails and want to let others know where you're going, or on the road early morning for a quick ride, this is a great option to get for yourself or your biker friends. It has a 4-hour runtime on low with 3 LED modes, while the red light has 2 LED modes with 5.5-hour runtime. They come with USB rechargeable cables and are easy to hook up to your bike.
28. Lightweight Hydration Backpack, $18.24
Staying hydrated during your workouts is essential, but it can be hard for runners. Lugging around something that heavy and awkward is tedious, but if you're wanting to go for a long distance, or even a marathon, a backpack is the best way to go.
For those that need something to hold your items while staying hydrated, check out this backpack that is lightweight, breathable, and has the ability to hold up to 2L of water, along with pockets for your phone, keys, or anything else. And it also has a helmet buckle. It comes in a variety of colors to suit your style and is over 20% discounted thanks to Black Friday.
27. OutdoorMaster OTG Ski Goggles, $27.19
Snowboarding or skiing are wonderful sports. And for those who do that sport often know how important it is to stay protected now only from the chill but from snow and other elements pummeling against your face.
These snow goggles are affordable and the perfect option for those who want to find your next piece of ski gear. These goggles come in several different colors to fit your aesthetic. The sizing allows you to wear them with your glasses on, which is a huge perk. Plus, the goggles have 100% UV protection and are compatible with any ski helmet.
26. Kids Wetsuit, $32.90
Helping your kids get involved with sports or try out the ones you love can be the most rewarding thing. Not only are they staying active, but they find a hobby that releases stress, and any built up energy they might have.
Therefore, it's key to purchase durable and decent equipment to encourage their dreams. For instance, this wetsuit for kids can encourage them to stay in the water a bit longer. It has UV protection to keep them safe and warm, as well as protection from marine organisms. They come in a variety of colors and sizes for all kids.
25. MgaoLo Kids Smart Watch, $34.99
From smartphones to watches, technology is everywhere, and there's only so long before your kids start asking for all the latest items. If your kids are getting to that point, but you don't have it in you to purchase the latest ones, try giving them this smart watch for kids.
To be honest, it's kind of adorable, I wish these were around when I was little. It comes with several functions like your average smartwatch except for messaging and phone. This tracks your fitness, the date, your sleep schedule, music, and even has an alarm and stopwatch. It comes with 19 sport modes available so the kids can track their habits during their activities.
24. Winter Gloves Made with Insulation, $35.99
Trying to keep your hands warm while spending the day outside? Whether you're skiing, sledding with the family, or are hiking in the colder seasons, these gloves with their own insulated can make you comfy and cozy while you're enjoying the crisp air.
These gloves have 5 layers to reinforce and insulate your hands, keeping them dry and warm, even at -10 degrees Fahrenheit. They even have double waterproof protection to ensure you stay nice and dry. And don't worry, if you need your phone, they have touchscreen technology, so you don't have to succumb to the harsh climate just to make a call or send a text.
23. Kunup Kid Soccer Goal for the Backyard, $44.99
Encourage your kids with this amazing soccer goal that you can put up in your backyard. One of the best sports gear Black Friday deals you can choose for your kiddos is anything that will inspire them to stay active and into some great sports.
It's easy to use, stands up to 5 feet high and 9 feet wide and has high-quality fabric with multi-strand tight netting to prevent any tearing or ripping. It comes with a handy carry bag so you can bring it along on trips like camping, as well as rope and stakes to ensure it doesn't fly away during windier days.
22. YYW Roller Skates, $46.99
To be honest, one of my favorite hobbies growing up was roller skating. I loved going to the rink and spending time with friends. It feels like more fun than exercise, but it really does give you a great workout. I've seen a lot of people pick it back up as they've gotten older, especially around college to help them get around.
If you know someone who enjoys it but wants their own rollerblades, or maybe a student on their way to a university with too big of a campus, check out these roller skates this Black Friday.
21. Naspaluro Adjustable Weight Bench, $79.99
Do you want to improve your at-home gym a bit more? Adding in an adjustable weight bench will make your workouts feel a bit better with a new array of workouts. It has the capacity of holding 660-pounds of weight, the perfect option for those who want to go heavy on the weights and don't want to worry about breaking something.
It has multiple leg extension positions from 85-degrees to -30-degrees. This allows you to do an array of extra workouts that you might not have been able to do before. It's the perfect height for bench presses as well sitting at 18.1 inches off the ground.
20. Penn Rival Level Wind Conventional Fishing Reel, $65
Get the fisher in your life a new real this holiday season thanks to Amazon's sports gear Black Friday deals. This reel has a lightweight graphite frame and side plates with aluminum frame rings.
It has auto-engaging gears with marine-grade bronze alloy main and machine-cut brass pinion gears. The discount is with the 20 size, with a 15% discount sitting around $56.
19. Jersey Display Frame Case, $56.99
Any collector knows how amazing finding something valuable is and wanting to display it for the world to see. Now you can do so with this display frame case, which is discounted by over 20% for those that want show off their best finds.
This jersey frame is perfect for true fans, coming with rich felt lining, anti-fade black matte, and shatterproof acrylic to make sure that you're prized possession stays presentable and undamaged.
18. Franklin Baseball Glove, $78.61
Any type of apparel for sports fans is a necessity when it comes to gifts. For those needing a new glove either for their games or for casual catching in the backyard, check out Franklin's Baseball Glove for Adult and Youth in two different colors and several different sizes.
Get you and your family out of the house by tossing a ball back and forth or help encourage a baseball hobby for your kids. Whatever the case, this is one of the best sports gear Black Friday deals on Amazon.
17. Night Vision Binoculars, $93.98
For all the hunters spending their evenings in tree stands, you might want to grab yourself some night vision binoculars that have digital infrared and can save photos and videos with a 32GB memory card.
It has a 5X digital zoom, 7 levels IR, a playback function, and even has anti-shake and sports mode for the best quality images. Whether you want to capture beautiful creatures both night and day or are hunting and want to see to your best ability, this is the perfect gift for the holidays.
16. Vevor 10x9x6.5 Camping Tent, $99.25
Camping is an extraordinary activity for those that love nature as much as I do. Whether you do this to get the best spot in fishing, or you're hunting, or any other reason, having a great tent is crucial. I love the outdoors, but it can be creepy sleeping under the stars if you watch enough horror movies.
That being said, check out the Vevor camping tent that is 30% off this Black Friday. It's a decent size, portable for a 6-person sleep, and provides full coverage with waterproof technology.
15. Sports QB Cornhole, $102.40
Do you enjoy cornhole but would rather play with a football? Strangely, there's something for that. This cornhole set is perfect for outdoor sports and activities, such as tailgating, parties and more. It quite literally is a cornhole game elevated from the ground, but instead of beanbags, you use a football.
Who knew they made those? At a 32% discount rate this Black Friday, you can snag up one of these bad boys to create an amazing and competitive competition at your next gathering.
14. Star River 2 Person Tent, $103.20
But 6 people might be a bit excessive. Usually, you're not camping with so many people all at once, especially if you're taking a fishing or hunting weekend. Check out this amazing 2-person tent that is perfect for backpacking since it's so compact.
It's water and leakproof, is spacious, super easy to set up, and has double layering to make sure you're warm and toasty inside. With a 20% discount, this is a great option for a more compact tent for outdoor activities.
13. Frogg Toggs Rubber Bootfoot Chest Wader, $105+
Waders are a necessity for many hunters. Not only is it frigid in the early mornings, but moving through the water that could numb your body is horrible, so staying dry as much as possible is crucial.
If you know someone that needs some more waders, try out this sports gear Black Friday deal at an almost 20% discounted rate. They come in various sizes to fit anyone you have in mind.
12. OutdoorMaster Full Face Mountain Bike Helmet, $115.95
One of the best sports gear Black Friday deals that you can get is this bike helmet for only $105. It has a PC shell and EPS foam for the best impact absorption and redirection.
It comes with 27 vents to reduce drag as well as noise as you're moving along and even has an adjustable visor to make sure the sun never impedes on your performance. You can keep it clean by removing the inside padding and giving it a quick wash, ensuring that this stays clean and ready for every ride.
11. IZZO Golf Stand bag, $119.98
Carrying around your golf bag can be annoying and laying it straight on the ground isn't something that most would want. Thankfully, this standing golf bag is a great, affordable option for golf lovers.
One of the best sports gear Black Friday deals usually consists of a lot of golf material, and this is just one of the many examples. You can get this bag in various colors like Black, Blue, Green, and more. It's a lightweight bag and has several pockets for the best organization with 6 club dividers.
RELATED: Best Golf Grips in 2023 That Will Improve Your Game
10. MSR WIndBurner Camping Stove, $136.58
Originally almost $200, now $137, this stove system is a great gift for the holidays if you know an avid camper or someone who spends all their times outdoors.
Having something hot and ready for you in the brisk cool morning, or something to keep the chill away at night is perfect when you're camping, fishing, or maybe even hunting. With such an affordable price tag, this is wonderful item to grab.
9. Savior Heat Gloves, $139.99
Another set of gloves, but these are actually heated, making them a more worthwhile gift. These rechargeable heated gloves are currently 20% off this Black Friday season and comes with thermal control to give yourself the perfect heat temperature so you're not cold, but not overly sweating.
There's a string to keep the gloves snug on your hand, as well as a strap to ensure they don't slip off. This is perfect if you're hiking, snowboarding or skiing. It even has touch screen capability, so you don't have to keep taking your gloves off to send a message.
8. Rollerblade Macroblade, $152.24+
Another set of rollerblades, but personally, ones that I've never been able to master. I have a balance issue and blame it on my weak legs, but that's beside the point. These have over a 12% discount for the Black Friday deals on Amazon, making them a great purchase.
It has active brake technology so it's easier to stop for maximum control and efficiency. The brakes can be adjusted with its height to your preference as well. They're sleek, stylish and extremely comfortable.
7. Niceday Under Desk Elliptical, $129.99
At home equipment to help you stay active and healthy is becoming more and more popular. Equipment that is small yet helpful is also growing in popularity.
One example is the elliptical for under your desk. This machine is a great way to stay moving even when you're sitting down for most of your day and is especially great for seniors. It has 8 resistance levels to provide great calorie-burn workout while working on improving mobility and blood circulation.
6. Bose QuietComfort Earbuds, $199
Another popular brand when it comes to the music industry, Bose is a trusted and amazing brand when it comes to speakers. These wireless Bluetooth earbuds are the perfect gift for those who want to zone out in the gym and focus on their workout.
It has a long-lasting battery of up to 6 hours, and it comes with a charging case when not in use to help you keep going even when you're away from a charging port. It has its own Bose music app so you can control your settings in a simple area. It also has the function of letting you listen to one earbud while the other is out. While more expensive, it's well worth the price as it's incredibly durable and one of the highest-quality earbuds.
5. Fitbit Sense 2 Smartwatch, $199.95
Smartwatches are one of the best gifts you can give someone on a health journey. This is one of the best sports gear Black Friday Deals that you can find as it's a huge discount from the original price. The Fitbit is one of the largest growing smartwatch brands that you can find as it's incredibly easy to use and accessible.
You can use it to text, call, use Amazon, track your sleep, use it to wake you up, and for your health data like heart rate, fitness levels and even how your body reacts throughout the day like stress. There are several functions of the Fitbit that can help you through your fitness journey.
4. SereneLife Inflatable Stand Up Paddle Board, $249.99
There were a few listings for kayaks today, but what about other water sports that are an incredible workout? Paddle boards not only give you an amazing freeing experience on the water, but it's a crazy workout. If you're looking for a great sports gear Black Friday deal, this is it.
With the original price being $330, this is now set at $250 which is over a 20% discount, making it one of the best on Amazon. This is a versatile paddle boat and is incredibly durable. If you need a sign to start up the hobby, this is it.
3. Segway Ninebot, $299.99
Like the electric scooter, this segway is a perfect way to get around and still stay active. It's a reliable ride that gets upwards to 12 miles per hour with a range of 13 miles.
It has a shock-absorbing seat as well as an adjustable seat height so you can ensure you have a perfect ride. Get around town with this easy-to-use, easy-to-assemble segway.
2. MSR Lightning Ascent Snowshoes, $311+
These limited-supply snowshoes are currently at a discounted Black Friday rate by 12%, making them a great addition to your shopping list. They're lightweight, perfect for steep alpine ascents, made with polyurethane deck with perimeter teeth to offer edge-to-edge traction.
They have one-piece steel crampons to bite into the steep slopes for stability. Their bindings feature a one-piece contouring strap that wraps securely around the boot to prevent slippage and give you complete control. It even comes with a heel lift bar that you can flip up to help reduce fatigue.
1. Thule Apex XT Bike Hitch Rack, $358.95
For the bikers out there, that want to start traveling a little bit easier, check out this Bike Hitch Rack at a 20% discount. This is the perfect option if you're wanting to start biking on more trails a bit farther away, but hate lugging them around.
This bike rack holds up to 4 bikes, which is perfect for the whole family. Of course, less bikes mean that you'll spend a little less. It's super easy to install and super easy to use.
Black Friday Deals at Dick's Sporting Goods
Dick's Sporting Goods is home to some of the best sports gear that you can find. From Black Friday sports clothing deals to home gym accessories and equipment, there are several options for those who want to check out sports gear for themselves or for holiday gifts.
20. Under Amour Kids' Preschool Jet '23 Basketball Shoes, $32.99+
For the kiddoes, finding the right shows to hold up during each school year can be challenging, especially while finding reputable brands without breaking the bank. And don't forget that for the kids, look comes before durability. Thankfully, you can have all of the above with these Under Amour basketball shoes.
Dick's has some amazing sports gear Black Friday deals to make the holidays a bit less stressful, and these shoes are just the way to go. Not are they more affordable, but they come in a variety of colors, from gold and black, black, blue and even teal and purple, perfect for every kid on your list.
19. Nike Men's Sportswear Club Fleece Hoodie, $37.99+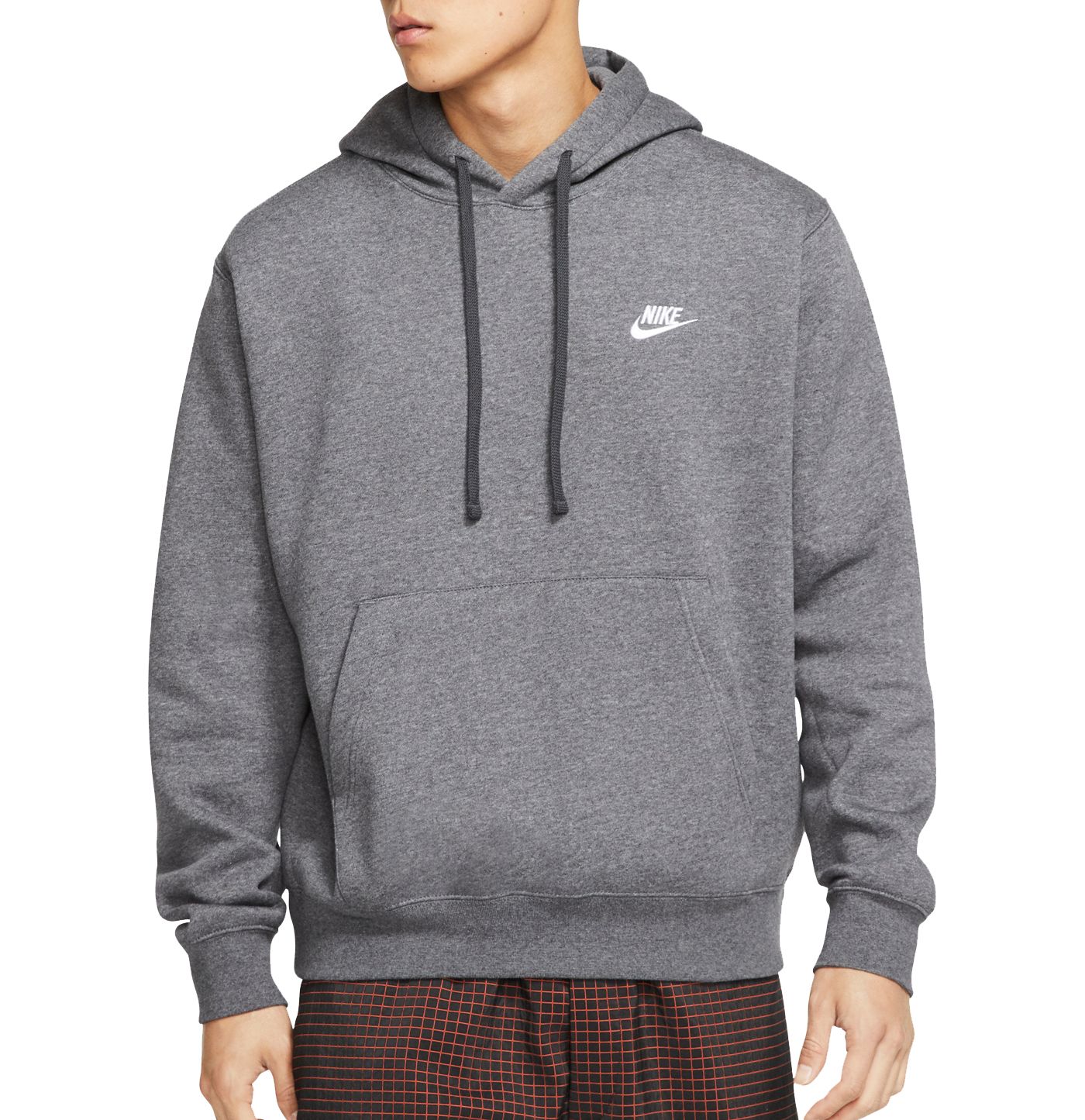 Who doesn't love a simple and comfortable hoodie? This hoodie from Nike is one of Dick's top-selling apparel items for men and is marked down for Black Friday deals. The sweatshirt has a subtle Nike logo and has a heathered fabric. It's available in 19 different colors, so you can pick the one that suits your style best.
18. Jordan Kids' Grade School Six Rings Basketball Shoes, $53+
If the kiddos are getting into sports, might as well inspire and encourage them to chase those dreams. This sports Black Friday deal sees this children's Jordan shoes half the price, making for a wonderful gift from Santa.
Not only are they high-quality shoes, extremely stylish, but incredibly comfortable so your kids can play for hours on end. With several colors and sizes, you can either have it shipped directly to you to help with the stressful holiday season, or you can pick them up at the store. It's lightweight, cushioned perfectly, and is created with durable material for long-lasting use.
17. Sunny Health & Fitness Mini Stepper with Resistance Bands, $59.99
Getting a full-body workout can be difficult, especially if you're short on time. Thankfully, the mini stepper with resistance bands can help you alleviate that worry. This is a great workout to do in your own home, like the walking pad, without spending hours at the gym.
This allows you to have a full cardio workout and strengthen your muscles but just stepping in place while pulling on the bands, creating a full body workout anytime and anyplace. There's even an LCD monitor that measures your steps, time, and total calories so you can keep track of your fitness journey easily.
16. NFL Combine Men's Backfield Team Color Hoodie, $40
With the winter coming, you need some decent clothes to get through the chill. One of the best sports items that you can get the sports fan in your life is a sweatshirt featuring their favorite football team. Some of the best sports gear Black Friday deals at Dick's Sporting Goods are the sports team's apparel like this NFL Combine Team Color hoodie. Usually, these team hoodies cost $55+, but all are discounted right now for a great deal of $40.
Don't worry, while I might be a Chiefs fan, not everyone is. These hoodies come with every team in the NFL, you'll just need to find your preference. This hoodie has an adjustable hood and kangaroo pouch pocket for maximum comfort.
15. FootJoy Men's 2022 Fuel Golf Shows, $99.98
FootJoy is known for making some amazing golf accessories, especially their gloves. If you're in need of some more golf shoes, check out this amazing Black Friday deal for a discounted price on shoes.
They come in a variety of colors spanning from blacks, whites and greys as well as several sizes and customizable options, like extended width, to make it the most comfortable while playing. They're waterproof, tour-proven and enhanced grip for the best performance.
14. Moultrie Mobile Edge Cellular Trail Camera 2 Pack, $119.98
Are you a hunter or have someone who enjoys it themselves? Hunting often consumes your time and money, but it is also one of the most rewarding outdoor sports you can do. If you know someone who is in need of some new hunting equipment, check out the Black Friday deals at Dick's this year for some of the best sporting gear deals.
These trail cameras provide high-performance image sensors that capture sharp 33MP pictures and have built-in memory with no SD card required. It automatically detects and connects to the strongest signal from multiple nationwide using Auto Connect technology.
Related: Top-selling NFL jerseys: Taylor Swift ties spike Travis Kelce's jersey sales
13. Nike Women's Air VaporMax 2023 Flyknit Shoes, $119.98+
Another shoe on the market for a great purchase this holiday season is for the women. Nike is one of my favorite brands when it comes to shoes, and the Air VaporMax is one of the best. While a bit pricier, it still is a great discount from the original price of over $200.
The shoe uses stretchy yarns for a breathable and supportive fit that's light as a feather, while being made with 20% recycled content. It's a great choice for a shoe as it's incredibly durable, adorable, and is extremely comfortable to wear.
12. Selkirk SLK Atlas Pickleball Bundle, $129.99
Pickleball is all the rage right now, and if you have loved ones who want to try their hand at the game or have been playing for a while and need a better set of paddles, pick up this bundle set.
The paddles that it comes with are great for beginner to intermediate players as it delivers a soft, comfortable, and consistent feel that combines high value with high performance to put you in complete control of the ball. In this set, you'll receive two paddles and three balls so you can find a court and start playing.
11. ProForm Cycle Trainer 400 Ri Smart Bik, $169.98
At almost half off the original price, this sports gear Black Friday deal is one of the best ones that have going right now. When purchasing this smart bike, you'll receive a 30-day iFit Family Membership as well, which will help you begin the New Year in the right direction.
The bike features Bluetooth compatibility with the membership to allow you to enjoy immersive workouts following trainers to global destinations and in the studio to help you through sessions. As soon as you jump in, the trainers will have complete control of your resistance level, helping you get the most out of your workouts.
10. Blue Tees Golf Series 3 Max Rangefinder, $199.99
Enhance your golf game with this rangefinder to help you figure out the distance of your destination. With a range of 900 yards with an accuracy of about one yard, this rangefinder is one of the best Black Friday deals that you can find at Dick's this year. It has adaptive slope switch technology so you can toggle in and out of the slop function to help calculate and adjust based on your incline or decline.
It also senses the amount of light in your environment, so it provides the best way to view through the finder. And almost half the price that it once was, this rangefinder is a great deal to snatch up.
9. Killer Instincts Lethal 405 Crossbow Package, $199.98
Crossbow season for hunting is a big season and can be a favorite for many hunters, so finding the best accessories before you or your loved one goes out is crucial.
If you're looking for a great Black Friday deal at Dick's Sporting Goods for your hunting needs, check out the Crossbow Package at a great discounted rate that provides a complete crossbow accessory package for your crossbow like a 4×32 scope, rope cocker, string suppressors, 3-bolt quiver and more.
8. GT Adult Aggressor Pro Mountain Bike, $299.98
Biking is one of the most peaceful, yet vigorous workouts that you can do. I've always enjoyed biking, especially to new locations, or at the park early mornings when the sun is slowly coming up. Give that same gift to your loved ones with this amazing sports gear Black Friday deal at Dick's Sporting Goods.
With an almost half-off discount, in various different sizes and colors, you can give this mountain bike to someone special. Designed for trail rides with a 3×8-speed drivetrain, this is the perfect bike for beginners' bikers who want a more intense experience.
7. Fitness Gear 300lb Olympic Weight Set, $299.99
Doing everything you can to prevent yourself from going to the gym, especially with the new year coming up, is essential for many. It can be a fear to go to the gym, or maybe you don't like driving somewhere in between the workday. Or maybe you find the best time to work out is in the middle of the night and nothing is open.
A great gift at a cheap deal is the Olympic Weight Set that goes up to 300lbs. From the original price of $399, this is a wonderful purchase for the introvert that wants to get into working out a bit more.
6. Ethos 50lb Selectable Dumbbell Pair, $299.99
If your at-home gym is looking a little sparse or needs some upgrades, check out these amazing selectable dumbbell pairs for only $299.99, a great savings for what it was at $349.99.
For this amazing sports gear Black Friday deal at Dicks, you'll be able to have a dumbbell that ranges from 5 pounds to 50 pounds, all adjustable within 5-pound increments. This prevents you from having to go by a set of dumbbells that can cost upwards of a grand. With one set of dumbbells, all your at-home weight needs are fulfilled.
5. Louisville Slugger LXT Fastpitch Bat, $299.99
This bat has a new speed composite barrel utilizing a patented single disk PBF technology for maximum pop and unbelievable sound on contact. It also has a huge sweet spot.
The grip is the new LS Pro comfort grip for more control while still feeling amazing in your hands. It even has a vibration control system so you can stay in control with every hit.
CHECK OUT: Richest NFL Owners in 2023 From Saints to Broncos
4. Lifetime Glide 98 Kayak, $329.99
Water sports are intense but are some of the most rewarding ones out there. If you're a lover of water or know someone who thoroughly enjoys kayaking but might be due for a new one, check out Dick's Sporting Goods sports gear Black Friday deals for this amazing kayak that is over half-off regular price.
With a weight capacity of 275 pounds and a comfortable rest system with an ultralight seat, this kayak provides the best experience. It's 9 feet and 8 inches in length and is the color shown above with no other variations but is a great deal for those looking for a new one.
3. Garmin STRIKER Vivid 7cv with GT20-TM Transducer, $399.99
Fishing is another outdoor sport that can really consume one's time, energy, and money. For instance, most fish finders that are worthwhile are extremely pricey. They can go for close to $800 and upwards for a decent one.
Thankfully, for those who want to gift themselves or a loved one a great item should check out this Garmin fish finder for only $399.99, a great discounted price for an amazing item. it provides 7 different Sonar color options for optimal contrast and clarity, along with waypoint markings to help catch more fish. Garmin is already an amazing product for any GPS system, so having one for under the water is a great choice.
2. Marcy 150lb Stack Home Gym, $449.99
Home gyms can be expensive and tedious to deal with. There's always something more to add and something else to upgrade, but with this 150lb home gym, you'll be set for a while.
It provides ample workout options to work with tons of weight, letting you improve your workout day by day without worrying about buying more weights or upgrading for a while. You can target your core and arms and even lower body, letting you do a full-body workout at any time at home.
1. WalkingPad C2 Mini Foldable Walking Treadmill, $499.99
One of the best purchases I have ever made was my walking pad that fits right under my desk at work. If you want to start a fitness journey but just can't stay motivated to leave your house, or only want to get moving if you're influenced by zoning out to a favorite show or work, a walking pad is for you.
At a high discounted rate, this walking pad has foldable technology to let you store it easily in your home. It has 12 gears for different speeds with various color options as well as smart foot-sensing speed control. If you want to be able to get a great walk in while staying inside, this is the best option for you.
Related: See how all 32 NFL starting QBs rank in 2023
Best Black Friday Sports Clothing Deals at Fanatics
Fanatics is the number one spot for all things apparel. If you want to find the best Black Friday sports clothing deals, you have to check out these great examples.
6. Youth Stadium Classic Pullover Hoodie, $21.60
Don't forget about the kiddos though. While there are several amazing products for that sports gear fanatic in your life, there are still some amazing youth products to encourage the littles to get as crazed as you about your favorite teams, or theirs.
These come in a variety of different teams and sizes so you and your kiddo can enjoy the game wearing matching hoodies.
5. Colosseum Blackout 3.0 Pullover Black Hoodie, $35
Enough about NFL though, what about some College Football? As a Kansas State alumnus, I can safely say these hoodies make a great gift for college students or college fans.
Several are currently on sale for only $29.99 instead of the original price of $59.99, however, the ones that are almost gone might pop back up to the original price, so you have to make sure to get your order in before that happens. There are a variety of colleges that you should check out. Not only are these sleek-looking products but will keep your loved ones warm this winter for sure.
4. Women's Cable Stripe Cuffed Knit Hat with Pom and Scarf Set, $33.60
If you need a great present bundle for someone who can't stay warm, this is the perfect option. Not only can you sport your favorite team, but this is a great add-on to any outfit, in or out of the stadium.
While it's technically a women's set, this is still a great purchase for anyone, spare for the pom poms. 13 teams are available for half the price, so definitely check out if your favorite team is on the list before they go back to the original price.
3. Fanatics Branded Arctic Pullover Hoodie, $36
Fanatics is all about their apparel, and they have some great options too. From jerseys, hoodies, hats and more, they have several different products that really catch the eye. Another sweater that is absolutely gorgeous are the Branded Arctic Pullovers.
In addition to the team colors, this sweatshirt has a grey color on the torso and a vivid team logo directly on your chest. Sports fans everywhere need to get their hands on this decked-out sweater. With the Black Friday deals, this sweater is usually $74.99 but is currently half that price, making it one of the best sports gear deals. Regardless of your favorite team, this hoodie is available for several options in the NFL and NBA.
Related: Top-selling NBA jerseys: See the best-selling jerseys in 2023
2. Heathered Stripe 3-Piece Full/Queen Bed Set, $73.99
The perfect purchase for the younger sports fans is this bed set sporting their favorite team. There are several teams available across several sports, and there are various price ranges.
From $68 to $75 compared to the original price of around $100, this is a great option if you're kids or college student needs bedding and wants to create the perfect vibe in their room.
1. Salute to Serice Retired Player Limited Jersey, $64.79
There have been several Salute to Service Black Friday clothes that you can get at various spots, from Dick's to Fanatics. This one is a jersey, however, instead of a hoodie, which is perfect if you want to support the team while supporting service members.
There are various teams besides just the Patriots that have this one sale for over 50% off, so grab your now before it goes back to the original price!
Sports Gear Black Friday Deals at Walmart
Of course, Walmart is one of the leading stores that has amazing Black Friday deals, and thankfully they have some amazing examples when it comes to their sports gear. From accessories to gear, these are some of the best ones they have to offer.
8. Vavsea Binoculars, $27.99
Whether you're hunting, hiking, going to a live event or just sightseeing around your campground, these are some of the best binoculars that you can find in the sports gear Black Friday deals.
It's extremely affordable and makes the perfect gift for those who enjoy being outdoors and checking out the scenery. It has a 20×50 magnification, a 99.6% light transmittance, and an 1100-yard field of view.
7. Lifetime Recruit 66 Youth Kayak, $159.99
Do you want to help get your kids involved in some of your hobbies? Or encourage them on their interests? Walmart's sports gear Black Friday deals have some of the best options for kids. Their youth Kayak in blue is a great option if you want to take them kayaking or for them to join some teams.
It only weighs 21.3 pounds and can hold up to 150 pounds. It's extremely durable and has a 5-year warranty to ensure your kid is safe and protected. It features molded hand grips for extra assistance, multiple footrest positions, and a youth paddle as well to get your kid ready for any situation.
6. Segmart Trampoline for Kids with Basketball Hoop, $199.99
Trampolines were always a luxury growing up, and now you can provide that luxury for your family with a great discount. What was once $360 is now just $165 at Walmart, making it one of the best Black Friday deals that you can find at Walmart currently.
Not only is this a great outdoor activity for the kids, but it also has a basketball hoop to double as great practice and fun for your basketball lovers. It has superfine mesh that is 10 feet high to make sure your kids are secured and has a large capacity of 440 pounds.
5. Portable Basketball Hoop Goal, $179.99
Another great product for those that want kids to start getting more active or to help encourage their hobbies.
The portable basketball hoop goal has an adjustable height from 7 feet and 6 inches to 10 feet with a 44-inch PVC backboard. It includes wheels at the base to help you move it around, and all you need to do is add sand or water to keep it stable.
Related: Updated NBA Rookie of the Year candidates
4. Pooboo Indoor Cycling Bike, $219.99
For those who want to get a bit more active in the new year but are not sure if they want to spend the money on a gym membership, check out the cycling bike that is perfect for an at-home workout. You can also watch your favorite shows while riding to help influence you to work and stay on the bike longer.
It has a high quality heavy-duty 40lbs flywheel with a capacity of 350 pounds, a belt drive and magnetic resistance mechanism. You can track your data like the time, speed, distance, pulse and calories that you've burned.
Related: Who's the early frontrunner to win NBA MVP this year?
3. MaxKare Complete Golf Clubs Set, $239.99
Golf is an expensive sport, but if you look at the right places you can find affordable sports gear Black Friday deals that will make the perfect gift. One such example is the MaxKare Golf Set at Walmart reaching only $167, a great price for the ones just starting to get into golf.
The set includes a Driver #1 Wood, #3 Wood Fairway, #4H Wood Hybrid, #6-#9 Irons, PW Iron, Putter, Head covers and a stand bag, all you need to have the perfect golf game.
2. SuperFit Treadmill with Speaker Control, $299.99
Treadmills can be too expensive, but walking pads might be too thin and flimsy, so try grabbing the folding treadmill with a display screen. It's heartier than the walking pad, but still can fit under your desk, and also has a display screen that can be attached to it if you'd rather.
This is a great product that is one of the best Black Friday deals at Walmart. The original price was set at $480 and is now only $240, making it a 50% discount.
Related: Updated NFL playoff predictions for 2024 Super Bowl
1. FitRx SmartBell XL, 10-90lbs, $149
Building your personal gym at home is always tricky, but with customizable and adjustable dumbbells, making it the perfect option if you're needing something compact and easy. For a great discount from $250 to $199, this is a great purchase during Black Friday.
Walmart has some amazing finds. It comes with a non-stick dumbbell handle to prevent any poor form, or potential falling. It even has rust-proof weight plates, along with a durable storage rack.
Golf Galaxy's Best Sports Gear Black Friday Deals
For the golfers in your life, check out Golf Galaxy for the best Black Friday deals surrounding all things golf-related. From full sets to individual clubs, they offer a variety of items as well as affordable deals to get your loved ones the perfect gift this holiday season.
7. Cleveland RTX Full Face Wedge, $119.99
The Cleveland Full Face Wedge was the winner of Golf Digest's 2022 Hot List, making it a great option for those wanting to get their golf lover a great deal on a great club. The club features a ZipCore design for added spin, enhanced control and greater consistency on all shots.
It has a hosel-to-toe groove pattern that covers every millimeter of the face, allowing hits off the toe without sacrificing the spin. It's one of the best options when looking at wedges.
RELATED: 2024 MLB Draft: Latest draft order, 2024 MLB Draft lottery guide, more
6. Callaway JAWS MD5 Wedge, $129.99
Callaway is a common and popular brand within the golfing industry and has created some amazing clubs, golf balls and accessories for several pros in the game. If you want an affordable purchase for your or your golf friend this holiday season, pick up the Callaway Wedge for a great Black Friday deal.
When purchasing this wedge, you can choose between five grind options to create the best wedge for yourself. From C-Grind, which increases the relief, especially at the heel, to X Grind, which is a more narrow, high-bounce sole.
5. Odyssey 2022 Stroke Lab Putter, $249.99
The Odyssey Putter is a great option if you want to stay within budget but want to spoil yourself or a loved one this holiday season. With a great Black Friday deal at Golf Galaxy, the Odyssey putter is customizable to make a perfect club for a gift.
It's one of the most renowned putter innovations and ultra-high-performance in White Hot OG's registry. It has a silver PVD finish with fine-milled surfaces that are unlike anything else you can see from the brand, making it a remarkable gift for golf lovers in your life.
4. Top Flite Women's 2021 XL 12-Piece Set, $249.98
Are you trying to get your wife or girlfriend out golfing with you? Or maybe get someone a new set, or even yourself one? The Top Flite Women's set is the perfect option at a great price this year.
The set includes 12 pieces which consists of a Driver, Fairway Wood, 5H Hybrid, 6, 7, 8, 9 and W Irons, a Putter, Driver and Fairway Headcovers and a Stand Bag, making it the perfect complete gift for your loved one.
3. Tommy Armour 2021 845-MAX Irons, $299.98
Another affordable, yet high-quality golf club is Tommy Armour's Irons, which are customizable to create the best club for you or your loved one. The head design produces a higher launch and higher peak height for maximum carry distance and has lightweight components to help deliver a faster swing, which helps with longer distances.
This is truly one of the highest quality irons that you can find at such an affordable price, making it one of the best sports gear Black Friday deals out there right now.
2. TaylorMade Stealth 2 Driver, $499.98
TaylorMade is one of the top brands in the golfing industry, so if you have the extra cash to gift someone this amazing Driver, then you should go for it. TaylorMade has created some amazing golf balls and clubs and has even created clubs for golf legends like Tiger Woods.
You can even customize it to make it the perfect option for you or your recipient. This driver was the winner of Golf Digest's 2023 Hot List, has a carbon-reinforced composite ring, designed for speed and forgiveness and has a new 60X carbon twist face.
1. Tour Edge 2021 Hot Launch 13-Piece Set, $799.99
We looked at the Women's Golf set above, now we should mention another one. This is substantially more expensive; however, it is a great sports gear Black Friday deal that you can find on Golf Galaxy. If you want the chance to pick up a golf set that is high-quality without completely breaking the bank, now is the time.
This 13-piece includes a Driver, #3 and #5 Fairway Wood, #5 Hybrid, #6-9 Irons, PW, SW, Mallet Putter, Cart Bag and Headcovers. These are great clubs that will make you feel like a pro on the field and are a purchase that all golf lovers should check out.