Tommy Gilligan-USA TODAY Sports
What to look forward to with Next-Gen Madden NFL 2021
Release Date: December 4, 2020
With EA Sports' Madden NFL 21 now available on both Xbox Series X and Playstation 5 on December 4th, we wanted to take a look at what gamers can expect from the game on the next generation of consoles.
As a company long criticized for several reasons, the one thing you can rely on EA Sports for each year is making a football game where you get to experience playing with your favorite team and its players.
There are many different ways to enjoy the game. Whether you like to build a super-team combining all of the sport's greatest athletes or try to keep things realistic, there is something for everyone.
Of course, in recent years, Madden Ultimate Team or MUT has taken over as the focal point for EA Sports and many other sports gaming franchises. Like it or not, it has been great for the overall sales numbers and popularity of both video games and the sport which the game represents.
In this article, we wanted to highlight some of the changes to look forward to when playing Madden 21 on next-generation consoles.
What's different from the PS4 and Xbox One versions?
If the EA Sports gameplay trailer was not enough to convince you that Madden NFL 21 will be different on the next-generation of consoles, let me break down some differences.
As usual, new systems bring faster load times and better visuals, which remains as true as ever. Moreso, a new game brings updated rosters with Madden 21 ratings.
Next-Gen Stats
One of the coolest factors that advanced technology will bring to gamers playing Madden on a next-generation console is the incorporation of Next Gen Stats. For fans of the NFL who appreciate data, this is music to their ears.
If you are unfamiliar, Next Gen Stats captures real-time location data, travel speed, and acceleration for each individual player. This is how we can determine how many miles per hour a player reached on any given play.
Not only will player speed feel more authentic, but the route-running will also be a huge game-changer as well. Instead of a player attempting to run a route exactly as drawn on a play, they will run actual routes that Next Gen Stats have tracked using their data. This essentially means in the game Stefon Diggs and everyone else will run the exact routes they have run in real life.
User-friendly playbooks
Another interesting facet of the game is an entirely revamped play-calling system. Included within that is "By Player" play-calling, which is exactly as it sounds. Now you can go to your playbook and search among plays aimed at getting the ball to your playmakers such as Odell Beckham Jr.
One of the exciting new features is the favorite play marker.
This allows you to mark specific plays in your playbook that you want to be able to easily find later in a pinch. No longer will you be aimlessly scrolling through plays hoping to come across something you routinely count on to get you that big play only to have to call a timeout as the clock winds down.
PS5 Haptic Controller Feedback
One thing the Playstation 5 exclusively features is the use of immersive controller haptics. For Madden NFL 21 this is utilized in a number of ways. For the first time ever, gamers will be able to "feel" catches, hit-stick tackles, and more.
The latest version of the PS5 DualSense controller also features adaptive triggers that offers resistance as you break tackles just like Derrick Henry does. Gamers will also feel when their players are running low on stamina through the use of adaptive triggers.
There is a lot to look forward to in the next generation of Madden NFL 21. Luckily, once you do get the game installed, you won't have to wait very long to play, with faster load times than ever before.
Purchasing Madden NFL 21
Keep in mind, if you already purchased Madden NFL 21 for Playstation 4 or Xbox One, you automatically get the game for free when you upgrade to the next-generation of consoles.
Featuring Lamar Jackson on the cover, Madden NFL 21 is now available on consoles worldwide. If you are itching to play football featuring the best graphics available, you can pick up the sticks and begin playing.
Previous Madden NFL 21 Updates
Madden NFL 21 Preview
The football season is upon us and that can only mean one thing, Madden NFL 21 will be hitting shelves soon. And it's a big deal for sports fans like us.
With its August 28 launch right around the corner, we've dug into the wide range of information available. Putting everything you need to know in one place.
So, whatever you're seeking about Madden NFL 21, we've got you covered.
Madden NFL 21 Reviews
The one positive review for Madden NFL 21 said: "Madden 21 as a whole may feel like a bit of a letdown compared to the past few years in some areas, but The Yard definitely helps to make it worth it for players that are interested in trying something a little different. With the free upgrade to the next generation version and the promise of treating Franchise like a live service as the season goes on, Madden 21 is likely still going to be well worth the purchase in the long run, even if you may be left a little dissatisfied at this point."
PlayStation Universe review score – 70/100
Review verdict: "Madden NFL 21 makes a good attempt at adding variety into a tried and true formula. However, Face of The Franchise has awkward and dry storytelling and cannot match up to the excellence that Longshot offered the franchise. The Yard has some ambitious ideas and offers up a nice change of pace, but it needs some control tweaks to feel like the mode it's trying to be. The fundamentals are getting better and better, with gameplay getting long-awaited touches of realism."
Twinfinite review score – 60/100
Reviewers verdict: "Madden 20 is fine and serviceable but other than The Yard (and that's a stretch), there's almost nothing that is worth getting excited over this year. Here's hoping the new home consoles do something to move Madden forward at some point in the near future."
Reviewers closing comment: "Despite the fact that Madden NFL 21 features arguably the best core gameplay the series has ever seen and the introduction of a fun new mode in The Yard, the continued neglect shown to classic Franchise mode, lack of innovation across the board, and technical issues leave this gridiron mismatch coming up short."
Dualshockers review score – 45/100
Review verdict: "Madden 21 is a mess. Last year, the team masked bad gameplay with shiny new X-Factor abilities. However, with 21 not fixing any of the big issues, that luster is completely gone. What you're left with is a game that's fully concentrated on squeezing every last cent out of its customer base. That's nothing new for EA, but Madden NFL 21 just seems even more blatant than usual."
Release date and early access
There are two ways to get your hands on Madden NFL 21 before the official August 28, 2020, launch date. These are:
Option #1: If you have EA Access and are desperate to test the game out, a trial could be available as early as August 21, 2020. Trials are limited to 10-hours only.
Option #2: If you pre-order the Madden NFL 21 Deluxe or MVP Edition, you'll have full access from August 25, 2020. That's three days before those picking up the standard edition.
Madden NFL 21 editions and bonuses
The game has three editions covering six platforms. These include:
Deluxe Edition – $79.99

Three-day early access
12 Madden Ultimate Team Gold Fantasy Packs
One of 32 Players from NFL Team Elite Packs
One "Your Choice" Uniform Pack
Madden NFL 21 MVP Edition – $99.99

three-day early access
17 Madden Ultimate Team Gold Fantasy Packs
One of 32 Players from NFL Team Elite Packs
One "Your Choice" Uniform Pack
Lamar Jackson Elite Item with Power Up
One Large Quick sell Training Pack
Madden Championship Series Ultimate Champion Pack
For those looking for a shortcut on Ultimate Team, the MVP Edition looks irresistible.
CHECK OUT: EA Sports delays NFL Madden 21 first looks to stand with the African American community.
Xbox Series X Smart Delivery
If you buy Madden NFL 21 on Xbox One, you'll be able to play it for free on Xbox Series X.
PlayStation 5 Dual Entitlement
Just like on the Xbox, if you buy Madden 21 for the PlayStation 4, you'll be able to play for free on the PlayStation 5.
Madden NFL 21 cover athlete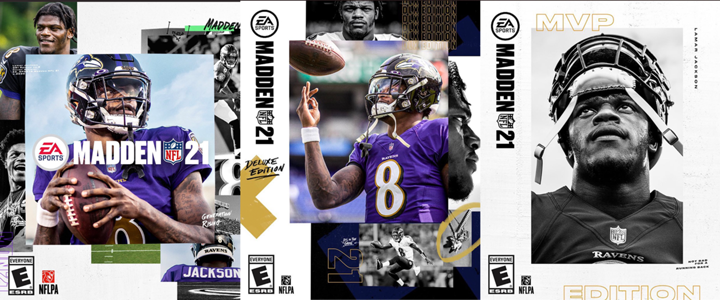 Baltimore Ravens quarterback sensation Lamar Jackson takes center stage on the cover of Madden NFL 21. Some people say that the cover is a curse, but when asked, the man himself says he isn't worried.
The above-Tweeted video accidentally leaked the news about Lamar Jackson. Ultimately taking the excitement away from EA's later big Madden NFL 21 cover athlete announcement.
CHECK OUT: The five NFL players who make up Madden NFL 21's 99 Club
Madden 21 official trailer
EA's trailer summary: "Go All Out in Madden NFL 21 with innovative gameplay mechanics that offer advanced levels of control and inspire creativity on both sides of the ball. Feel all-out control with the new Skill Stick ball-carrier system, dominate the edge with fresh pass rush moves, experience more open-field realism with tackle improvements, and have more fun with user-controlled celebrations."
Madden next-gen announcement trailer
EA's trailer summary: "EA has revealed the first look at the next-gen version of Madden, NFL 21, offering a look at how the long-running football franchise will take advantage of next-gen hardware."
Check Out: Pre-order Madden NFL 21 now on Xbox One, PlayStation 4, or Windows.
Madden NFL 21 Player Ratings
The 99 Club: A fifth member of the club has been added, with Michael Thomas joining Patrick Mahomes, Christian McCaffrey, Aaron Donald, and Stephon Gilmore. For those unaware, these are the players with a maximum rating of 99 overall in the game.
Other known ratings are below.
Rankings: Top 10 Madden NFL 21 quarterbacks
Patrick Mahomes – 99 overall
Russell Wilson – 97 overall
Lamar Jackson – 94 overall (cover athlete)
Drew Brees – 93 overall
Tom Brady – 90 overall
Aaron Rodgers – 89 overall
Matt Ryan – 87 overall
Deshaun Watson – 86 overall
Dak Prescott – 84 overall
Carson Wentz – 84 overall
Rankings: Top 10 Madden 21 running backs
Christian McCaffrey – 99 overall
Derrick Henry – 93 overall
Nick Chubb – 92 overall
Ezekiel Elliott – 92 overall
Saquon Barkley – 91 overall
Dalvin Cook – 91 overall
Aaron Jones – 90 overall
Joe Mixon – 89 overall
Josh Jacobs – 88 overall
Alvin Kamara – 88 overall
CHECK OUT: Watch NFL teams react to the release of the Madden 21 trailer.
Rankings: Top 10 Madden 21 pass rushers
Aaron Donald – 99 overall
JJ Watt – 98 overall
Khalil Mack – 97 overall
Von Miller – 97 overall
Fletcher Cox – 96 overall
Cameron Jordan – 96 overall
Chandler Jones – 95 overall
Calais Campbell – 95 overall
Myles Garrett – 93 overall
Chris Jones – 92 overall
Rankings: Top 10 Madden 21 cornerbacks
Stephon Gilmore – 99 overall
Jalen Ramsey – 94 overall
Richard Sherman – 92 overall
Jaire Alexander – 90 overall
Tre'Davious White – 90 overall
Marlon Humphrey – 89 overall
Casey Hayward Jr. – 89 overall
Byron Jones – 88 overall
Darius Slay Jr. – 88 overall
Patrick Peterson – 88 overall
Rankings: Top 7 Madden NFL 21 rookies
Joe Burrow – 76 overall
Jeff Okudah – 76 overall
Henry Ruggs – 76 overall
CeeDee Lamb – 75 overall
Tua Tagovailoa – 73 overall
Jordan Love – 71 overall
Justin Herbert – 70 overall
As more rookie ratings become available they'll be added.
CHECK OUT: The Future of the NFL, Top 20 QBs of the 2020's.
New Game Features
All Out Control
From EA: "Go all out with the new Skill Stick to link together clever skill-move combos that setup amazing gameplay moments. Master new evasive moves like dead-leg and slide hurdles combined with spins, jukes, and hurdles to create in space. Run up the score with an innovative ball-carrier system developed to inspire creativity."
Read more about all out control here.
Dominate The Edge
From EA: "The new Skill Stick allows for full control and responsiveness with specific pass rush moves and combos. Be strategic as offensive linemen will build resistance to repeated moves. … Diversify your play calling to outsmart adaptive AI adjustments that counter your tendencies in new ways."
Continue reading about this Madden NFL 21 feature here.
Clutch Stops
From EA: "These are tackles where both the ball carrier and defender are aware of the first-down marker, end zone, and pylon. What this means is you'll see ball carriers reach out with the ball while getting tackled to score a crucial touchdown or clutch up a first-down. You'll also see the tackling defender struggle but successfully deny the ball carrier these reach-out moments."
Continue reading about Clutch Stops here.