Football is back, which means so is Monday morning quarterbacking. 
The Miami Dolphins eked out a win in Foxborough on Sunday afternoon against the New England Patriots 17 to 16, with a late-game fumble clinching the win for the Fins. There was a lot to like about the team's performance on the road, but also plenty of room for improvement as it looks to make a real playoff push this season. 
Here are a few key takeaways I had from rewatching this weekend's matchup of two AFC East playoff hopefuls:
Tua Tagovailoa shows his development is real in Miami Dolphins win
There's always a caveat with any preseason analysis, so it was reasonable to be skeptical that Tua Tagovailoa's phenomenal preseason performance might not carry over into the regular season. 
If Week 1 was any indication, however, that skepticism should be gone now. 
He consistently delivered accurate passes, save for his one interception and one other deep pass that likely should have been picked off. But even the throw that was intercepted, Miami's quarterback said during a post-game press conference that he was attempting to throw the ball out of bounds while scrambling from a crumbled pocket.
According to Pro Football Focus (PFF), Tagovailoa's adjusted completion percentage was a serviceable 66.7% in week one, slightly behind his 2020 season average. 
Tagovailoa also showed a willingness to push the ball downfield during Sunday's win. Much of the offseason was spent talking about his low depth of target in 2020, which stood at eight yards per attempt by the end of last season. However, in week one his average depth of target was 10.1 yards per attempt, which was tied for fifth-highest in the league among quarterbacks with at least 10 dropbacks, per PFF.
Per NFL Next Gen Stats, he completed two out of his four throws at least 20 yards downfield.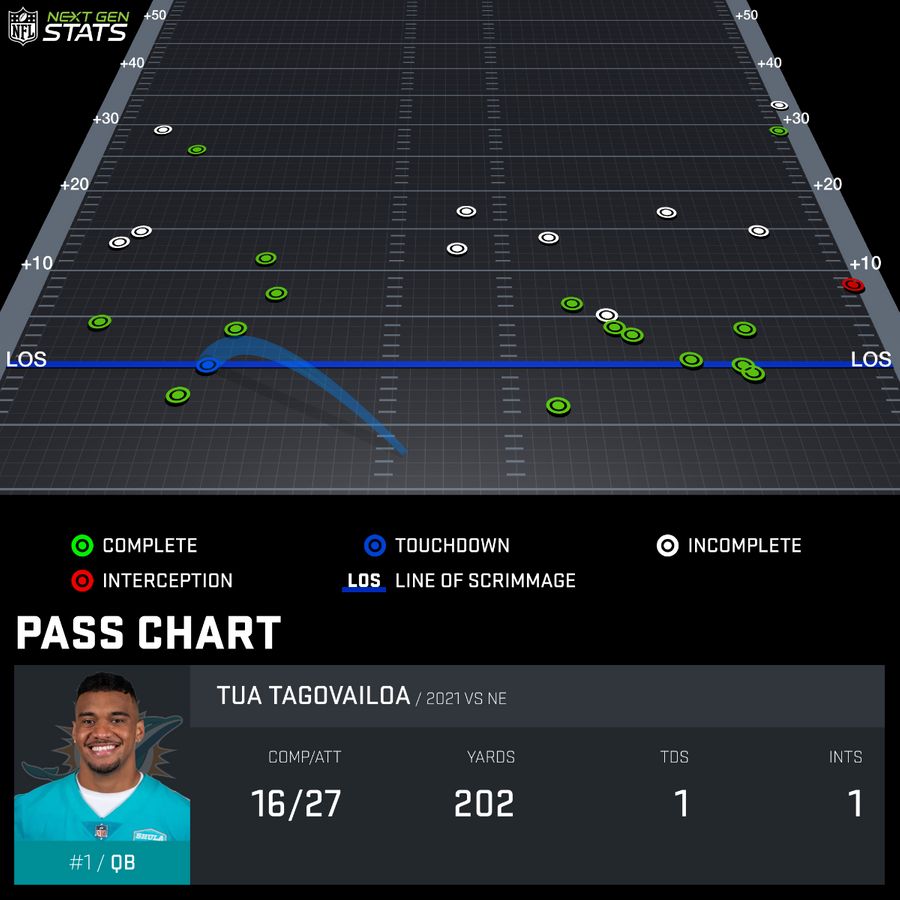 However, he completed just one of his eight attempts between 10 and 20 yards past the line of scrimmage, so there is still room for improvement.
Run-pass options make a comeback in Miami Dolphins offense
Tagovailoa was one of the most efficient run-pass option (RPO) throwers in college football while at the University of Alabama. Now that he's been reunited with his college wideout Jaylen Waddle, Miami's new co-offensive coordinators Eric Studesville and George Godsey went back to Tagovailoa's roots in week one. 
The very first offensive play of the game for Miami was an RPO that saw Tagovailoa pull the ball from running back Myles Gaskin to feed Waddle his first NFL catch.
While I don't have a specific rate the team called RPOs on offense, I personally counted at least five instances the Dolphins turned to the scheme. Most importantly, when the team did call it, Tagovailoa executed it very well.
Notably, Miami turned to the RPO in high leverage situations, too.
With under four minutes in the fourth quarter, up by only one point and backed up near the teams' own endzone, Tagovailoa threw a strike to receiver Devante Parker from an RPO call that went for 13 yards. Just a few plays later, Miami iced the game. 
Click here to find out where the Miami Dolphins stand in our most-recent NFL power rankings
The team ran RPOs out of the pistol formation fairly often, which helped set up some nice runs for Gaskin out of this formation, even when the playcall wasn't an RPO.
All this goes to show that the team's offensive coordinators are getting a bit creative early on in the season.
Miami fails to get home with frequent blitzes
Rookie quarterback Mac Jones' very first NFL dropback ended with a sack when Miami sent a five-man blitz his way. 
However, it would prove to be the team's only sack of the afternoon.
Jones quickly learned his lesson, and from then on Miami's pressure packages proved ineffective against New England and its elite offensive line. And it wasn't for lack of trying, as Head Coach Brian Flores brought a litany of different blitzes throughout the game, particularly on third downs.
That's no surprise, as Miami blitzed at the second-highest rate in 2020, according to The Athletic's 2021 NFL Playbook. This led to one of the highest defensive success rates in the NFL on third and fourth downs last year.
But Jones hit his hot routes time and time again whenever Miami brought the heat. The quarterback got the ball out of his hands in under three seconds nearly every time the Dolphins blitzed, and while the team's rushers got close a handful of times, it wasn't close enough.
His average time to throw was just 2.39 seconds, which was tied for sixth-fastest among quarterbacks with at least 10 dropbacks in week one.
As a result, Jones carved up Miami's defense on third down.
He had nine completions on 12 attempts on third down, and he converted seven of those attempts into first downs and just under 100 yards.
Offensive line shows mixed performance
Miami's offensive line was my No. 1 concern headed into this season, and while it's performance wasn't abysmal, I still have my doubts.
First, the good:
Per PFF, Tagovailoa was one of the least pressured quarterbacks in week one. He felt pressure on just seven pass attempts, and the only qualifying quarterbacks who felt fewer pressures were Justin Herbert of the Los Angeles Chargers and Taylor Heinicke of the Washington Football Team.
Now, the bad:
Miami's offensive line seemed to me to have a clear weak link: Right tackle Jesse Davis. Rewatching the game, it seemed like he was the one who looked like he was on skates most often. 
That surprised me somewhat, as I expected rookie Liam Eichenberg to struggle considering he wasn't expected to be the team's starting left tackle heading into the season. But he held up well. It at first seemed he gave up immediate pressure that led to one of the team's two sacks, but a closer look shows he was accidentally tripped by his own left guard, which led to the pressure.
Davis, meanwhile, was a more consistent problem along the line.
Miami's offensive line held up well in the run game, and lead back Gaskin had a productive day posting 5.4 yards per carry. The only worrying sign I spotted were a few missed blocks when the line tried to pull guards or the center, but overall the line created holes often enough.