Kim Klement-USA TODAY Sports
Tampa Bay Buccaneers wide receiver Antonio Brown is on a roll, of sorts. If his goal was to have his name constantly in headlines, he's accomplishing his task. But if he's hoping to get back on an NFL roster, well he keeps freezing his own feet.
Early Thursday morning, AB took aim at his current but soon-to-be-former teammate Tom Brady, who even invited Brown into his home, letting him live with him when he initially signed in Tampa. Brown also was quick to criticize TB12's business partner and trainer Alex Guerrero in a Twitter barrage.
The tweets have since been deleted, but before doing so, they were captured by several online observers. We're borrowing this screenshot from NESN.com.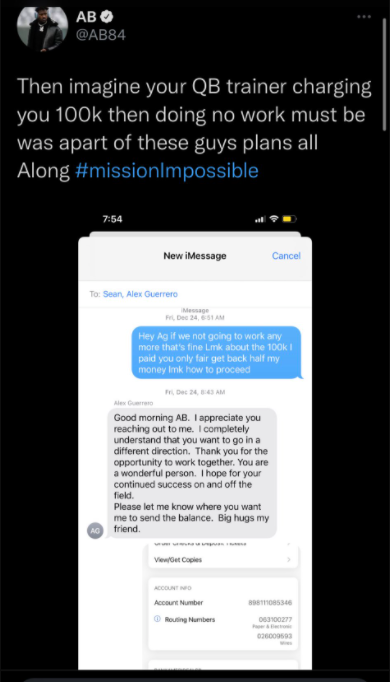 Here's where he specifically mentions Brady.
Antonio Brown made critical error
While going after your quarterback, and a future Hall of Fame player won't earn you any favors, especially after TB12 publically expressed his love and desire to see Brown do well in life. But that's not even the worst part.
Brown asked Guerrero to repay half of a $100K balance AB initially paid Brady's trainer. To which, Guerrero promptly offered to send him the balance, he just needed to know where. That's when Brown ignorantly shared for millions of observers to see, his own bank accountant routing numbers. Not exactly bright.
For those watching at home, never ever share your banking information on social media, that shouldn't even have to be explained. It's simply the latest puzzling move by an athlete whom many are questioning whether he's in his right state of mind. I'm not here to speculate on that matter, but this isn't a good look.
After it all, Brown posted another tweet, this one likely won't be deleted. Whatever's going on, we hope for the best for Antonio Brown going forward.