I'll bet you think whatever you did over Spring Break was pretty incredible. But was it as epic as what some of the San Francisco 49ers players have been doing over the past month or so?
When you think of Spring Break, do you think of parties, the beach, taking a long drive up the coast or cross country, or perhaps a little whale watching? That's kind of how Spring Break went down for some of the 49ers. If you didn't get a chance to take a little spring vacay, let's live vicariously through some 49ers who did enjoy some springtime jaunts.
San Francisco 49ers coach, Jim Harbaugh, shockingly, not dressed in his drab khakis, didn't exactly hang with the whales, but he did combine exercising with some touching moments with some other fabulous creatures. According to Ninersnation.com
http://youtu.be/BVIZk2QJTGY
Coach Harbaugh was at Six Flags Discovery Kingdom on Sunday, and had himself quite the time. According to that article, Harbaugh "got a kiss from sea lion, bottle-fed a tiger, met an elephant, and rode some rollercoasters." And of course, did pushups with a walrus!
Unfortunately, that was probably the only day in Harbaughs's life he didn't sport the Wal-Mart khakis. Obviously, the lucky khakis make him shoot half-court shots expertly.
http://youtu.be/iuZE3GB8mXs
Keep in mind these three things are always sure:
Death, Taxes, and Jim Harbaugh in a black sweatshirt and khakis http://t.co/AMa21h9RsS

— Ben Volin (@BenVolin) March 26, 2014
At least Harbaugh stays out of trouble with the law, unlike some 49ers who have been plastered all over the news and social media over the past week.
Rough start for the 2014 #49ers. On April 29, Aldon Smith will answer to felony weapon charges and DUI. pic.twitter.com/SonDDNfbSI

— Fantasy Football (@FantasyFootball) April 14, 2014
49ers cornerback, Chris Culliver was perhaps enjoying a leisurely drive along the San Jose countryside, or sightseeing when he allegedly struck a bicyclist.
According to ESPN, Culliver has plead not guilty to felony possession of brass knuckles and misdemeanor hit and run charges, following his March 28th arrest.
49ers Player Chris Culliver — Pleads Not Guilty … In Brass Knuckles Case http://t.co/snRWcr3EUK

— TMZ Sports (@TMZ_Sports) April 14, 2014
It doesn't look like his "sensitivity training" has paid off too well, now does it. Per ESPN,
In 2013, Culliver created controversy by expressing anti-gay sentiments in the lead-up to the Super Bowl. He has since undergone sensitivity training and done outreach work with an organization that supports lesbian, gay, bisexual and transgender youth.
The brass knuckles have earned Culliver the privileged title of being the "biggest creep in the NFL".
https://twitter.com/JoeFlaccoUpdate/statuses/454293376116875264
Couldn't Culliver has just purchased a normal Spring Break souvenir like a stuffed monkey or a nice coffee mug?
Now, who thought that San Francisco 49ers quarterback Colin Kaepernick would just do something simple over the spring like add more body art? Yes, I did too. Perhaps that's still to come, but Kaepernick did sneak in a little trip to Miami, Florida earlier this month with fellow teammate Quinton Patton and Seattle Seahawks Ricardo Lockette.
The Miami "suspicious incident" timeline involving Colin Kaepernick, Quinton Patton and Ricardo Lockette: http://t.co/KxOSTAXv9z

— Matt Maiocco (@MaioccoNBCS) April 12, 2014
It all started as a typical Spring Break house party in Miami, with intoxicated women and bongs and so-forth, right?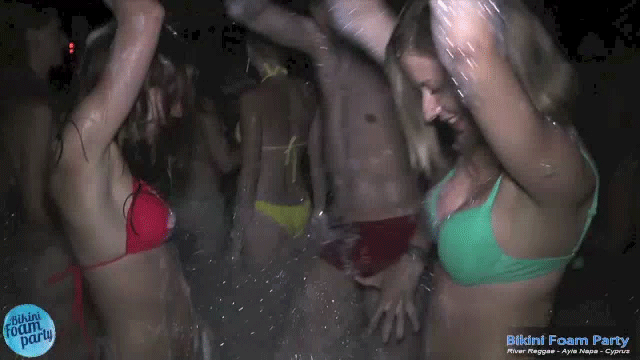 Well, foam or not, unfortunately for Kaepernick, he came out of the party with a police investigation to brag at home about.
Per CBS Sports,
Kaepernick, Lockette and Patton were all named in the original incident report, which was filed by the unnamed woman on April 3 and released to the public on April 10. The incident report doesn't make any accusations against anyone, but the woman did say that after getting naked in front of Kaepernick, he left the room. After that, she woke up in a hospital room and didn't "remember how she got there or who transported her to the hospital. The woman also mentioned alcohol and marijuana in the incident report.
The part that sticks with me here is the woman said after she got naked in front of Kaepernick, he left the room. That is not exactly a flattering moment in my mind. When the guy leaves the room after you undress, something definitely is wrong, kind of like this:
And, Kaepernick can get away fast!
He might have stuck around had the scene gone down more like this in the end zone:
To me, it sounds like this woman enjoyed a little too much in the plant food category that day, because her story is holier than swiss cheese.
Kaepernick adamantly denies any wrong doing in his comment posted by CBS Sports and TMZ:
The charges made in the TMZ story and other stories I've seen are completely wrong. They make things up about me that never happened. I take great pride in who I am and what I do, but I guess sometimes you have to deal with someone who makes things up. I want to thank all of the people who have shared their encouraging sentiments. I assure you that your faith is not misplaced.
Perhaps this woman thought Kaepernick shared the same partying techniques as those of Mark Sanchez?
Not as much in the near-clear as Kaepernick is 49ers most foolish Spring Breaker, linebacker, Aldon Smith, whom the 49ers have until May 3, 2014 to decide his fate with the team beyond this upcoming season. Smith has had his share of legal troubles since his draft in 2011, including a couple of DUI arrests with the last one taking place back in September.
I have no idea where Smith was headed when he was at LAX airport this past week, but I sure do know that you don't say you have a bomb and make threats in an airport. In fact, I think most people over the age of three share this knowledge.
Aldon Smith Allegedly Detained For Bomb Threat, Takes San Francisco 49ers' Week From Bad To Worse http://t.co/tnrQv0a1HU #RantNFL #NFL

— Rant Sports 24/7 (@RantSports247) April 14, 2014
Regardless, Aldon Smith has to be smarter than saying "bomb" in an airport. If anything he's at least guilty of being stupid.

— Matt Miller (@nfldraftscout) April 13, 2014
While his threat is "alleged", Smith will meet in front of a Santa Clara Judge on April 29, 2014 for a hearing on the event.
Nevertheless, this surely put a huge crimp into whatever spring traveling Smith was planning. Perhaps Smith should have just stuck to partying locally with this fellow idiot.
To end this article on a positive note, not all the 49ers have been involved in "colorful" activities this spring.
Wide receiver, Anquan Boldin enjoyed a friendly game of basketball with his NFL peers.
NFL star & ex-#FSU standout Anquan Boldin still happy to call Pahokee home http://t.co/iGahY6oI33 pic.twitter.com/2IHfny5YVS

— Post on High Schools (@pbphighschools) April 12, 2014
And, tight end, Vernon Davis is happy with his wheat grass shots at a local Jamba Juice.
The wheatgrass shots are ready! Congrats @VernonDavis85 on the 1 year anniversary of your Jamba Juice store. pic.twitter.com/sfhDlcXF5o

— Jamba Juice (@JambaJuice) March 29, 2014
Now, what did you do for your Spring Break? These San Francisco 49ers on Spring break most likely stumps it all.
Photo: Kyle Terada, USA Today Sports